+91-924-213-7092
info@eductrl.com
Dashboard
View various statics about your business as a whole or view specific branch office statistics.
Lead Management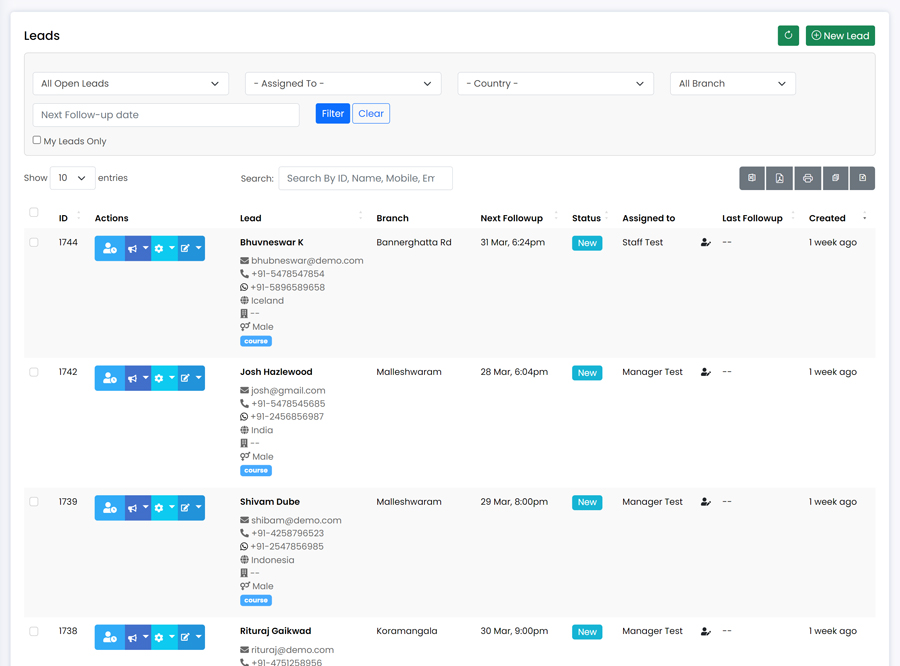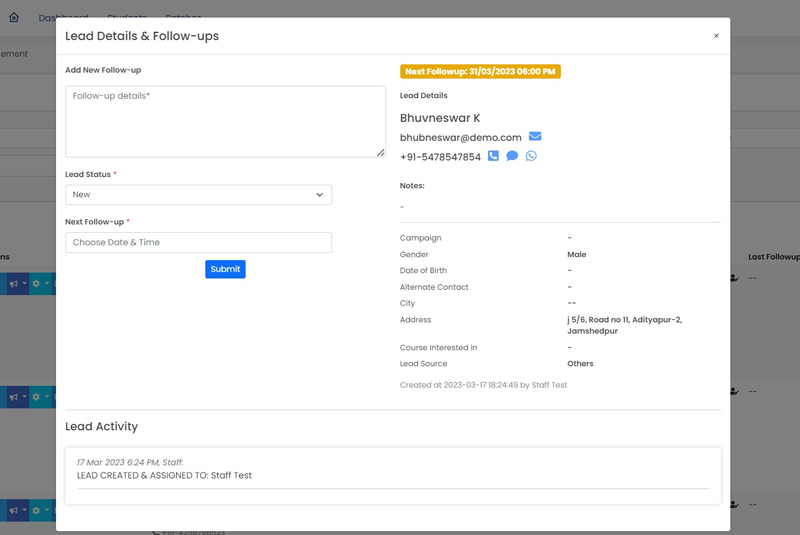 EduCtrl gives you the power to manage your sales process from beginning to end. View your leads with contact details & status. Staff can change the lead status to Hot/ Working/ Counselling/ Long Term/ Rejected etc. Filter leads by status, staff assignment. Staff can send email, sms, whatsapp to lead.
Staff can manually add a lead or lead is auto created using lead forms, email to lead or from facebook lead ad. Leads can be imported from csv file. Edit a lead, add followup notes to a lead, update next follow-up date, view lead follow-ups history.
Staffs are notified by email as per next follow-up date.
Counselling Management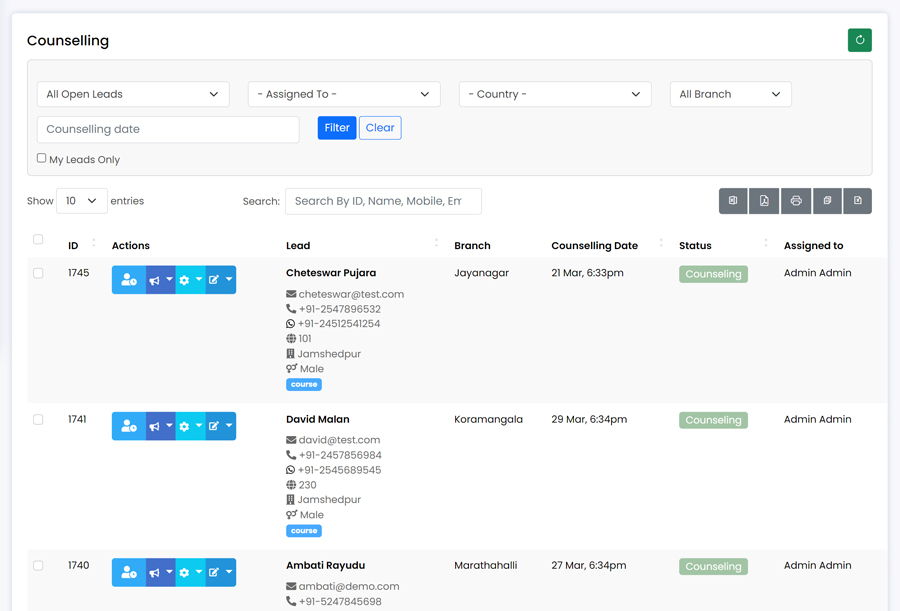 Move qualified leads to Counselling & assign a counselor and counselling meeting date & time.
View lead history, update lead status after the counselling meeting.
Student Management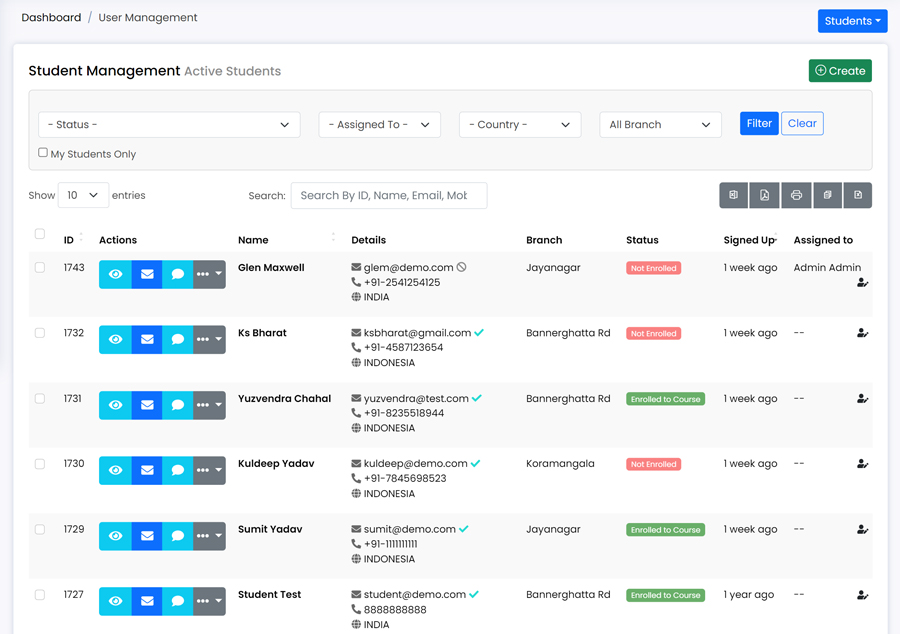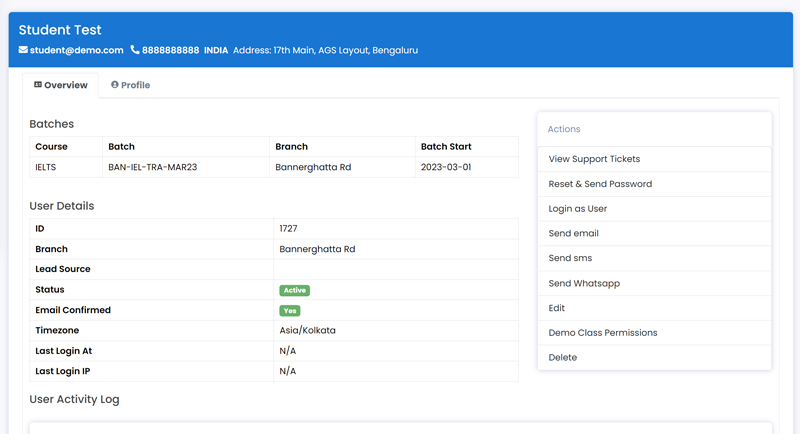 View list of all students registered/created in the website. Staff can view student information, send email, send sms, whatsapp, edit profile, reset password, login as student(impersonate).
View student details, course enrollments(batches).
Coaching Batches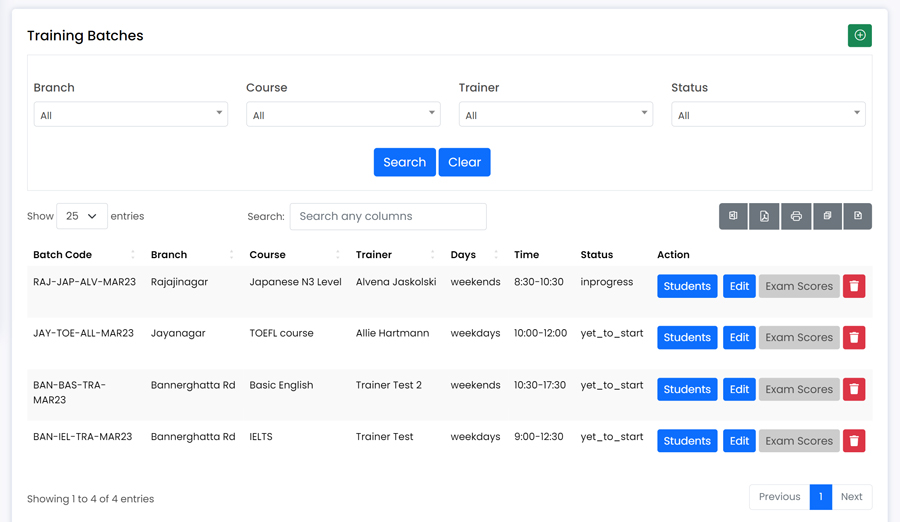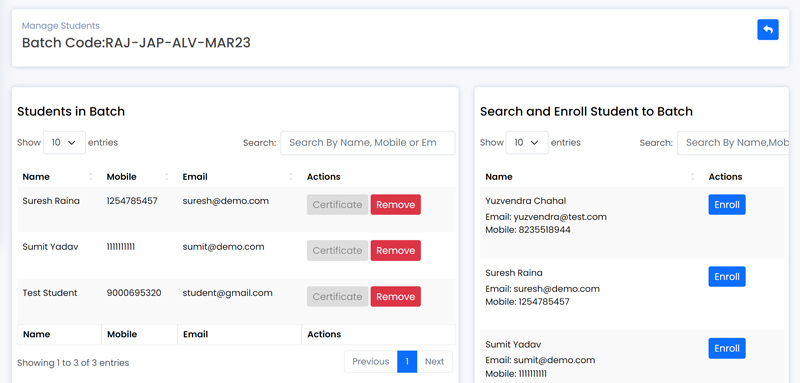 Manage the batches here. Create a new Coaching batch, view existing batch details: branch, course, trainer, timings, total duration(hrs), status etc. Configure the exams associated with the batch, configure assignment marks, attendance marks, online course marks.
Batch Student Management: Search for students & add student to a batch or remove student from batch.
Exam Scores: View all exams conducted for this batch, with the marks scored by each student.
Student Fees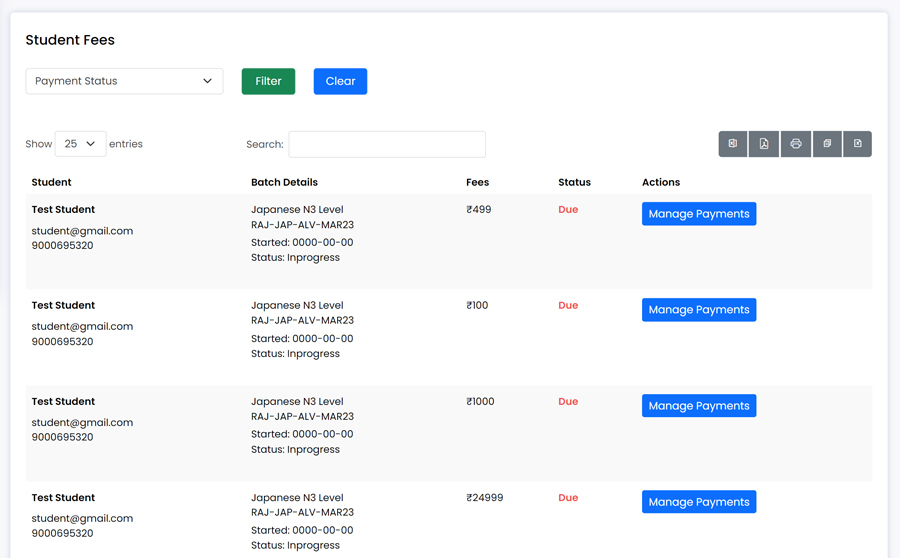 Manage student fee payment details. Track payments received, due amount. Share invoice to student.
Coaching Classes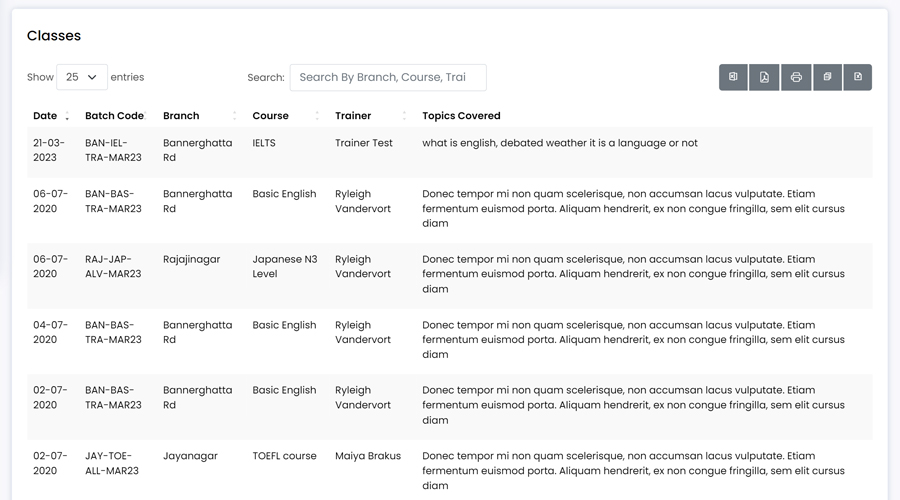 View all classes that were conducted with branch, course, trainer details. View the topics covered in the class.
Class Attendance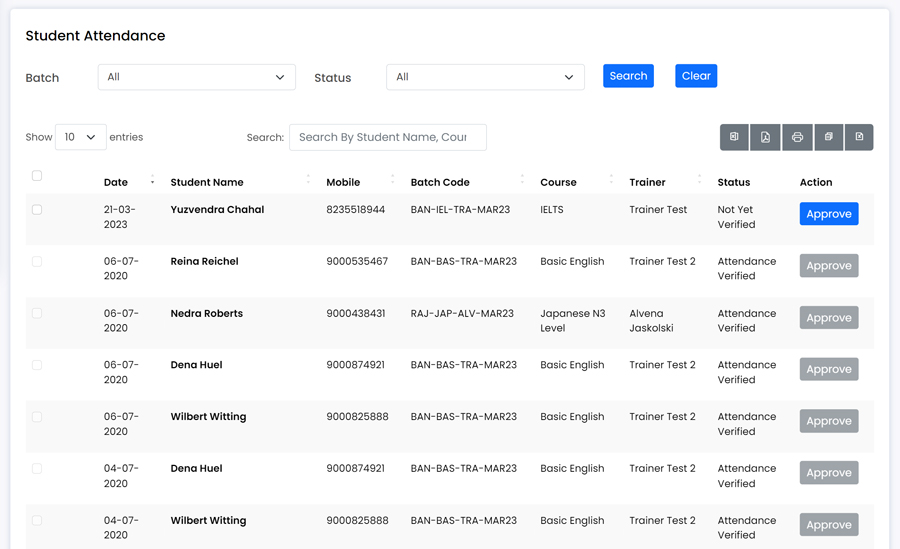 After every class, trainer can add attendance of batch. This page lists all student attendance. The staff can verify & approve the attendance.
Trainer Rating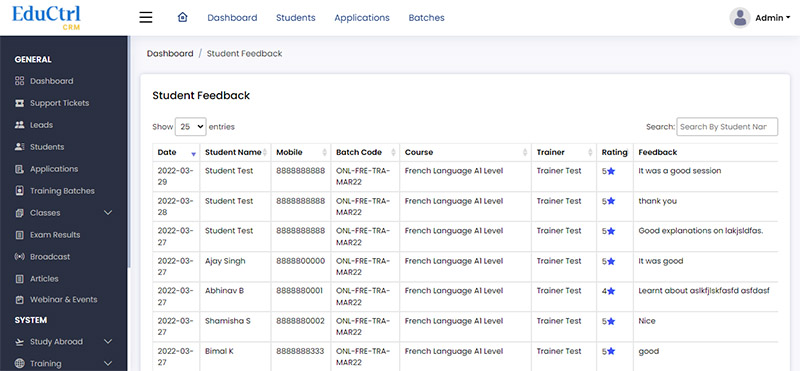 Students can rate the trainer & give a feedback about today's class. All rating/feedback are listed here.
Exam Results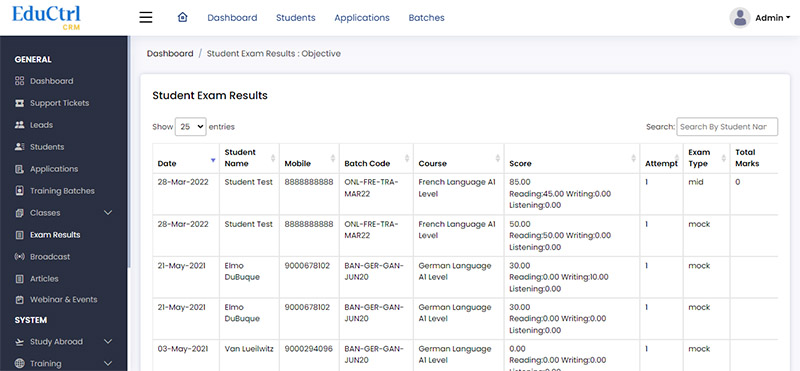 This page shows all the completed exams with student score, with breakup, attempt count.
Exam Q & A Database
Online exams use the question database to show questions randomly. For each course, question & answer database can be created.
Questions can be of objective type, essay writing type or comprehension type. Question can also be categorized into reading, writing, listening type.
Question can have file attachement, attachements can be image, pdf or audio file.
Online Courses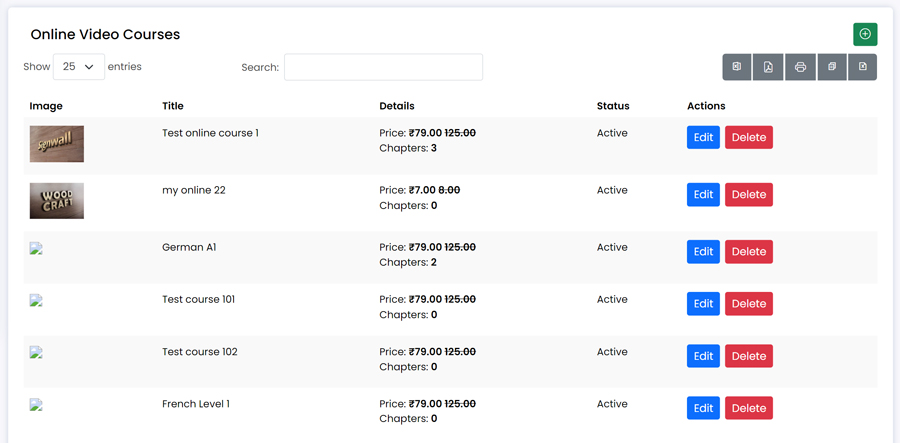 Manage online course recordings, course curriculum, videos. Manage online course enrollments.
Demo Classes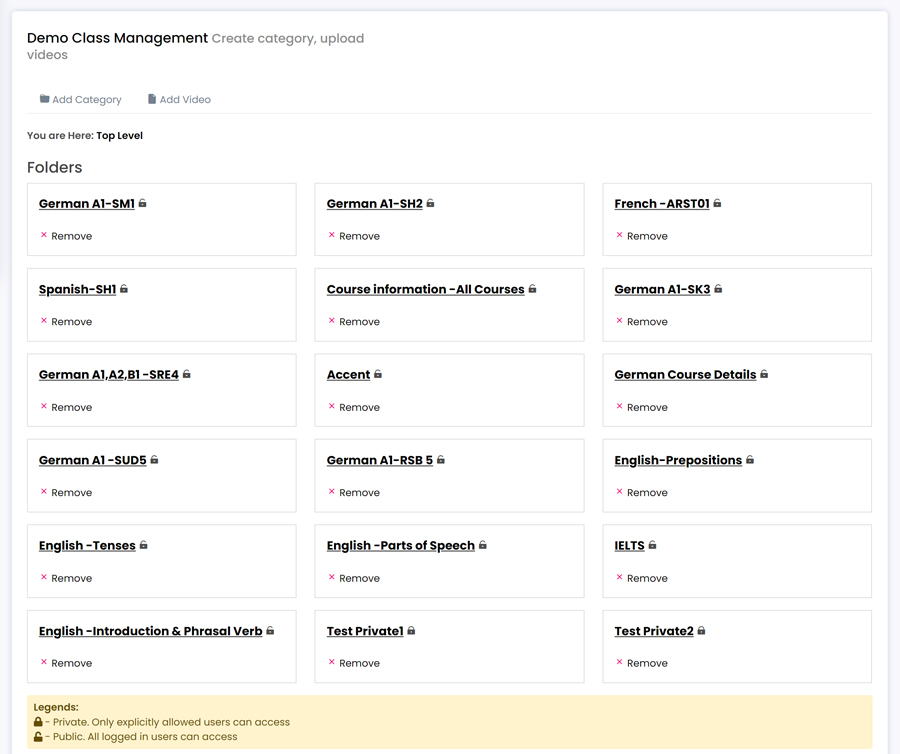 Upload course recordings. Share a demo class to a potential student.
Broadcast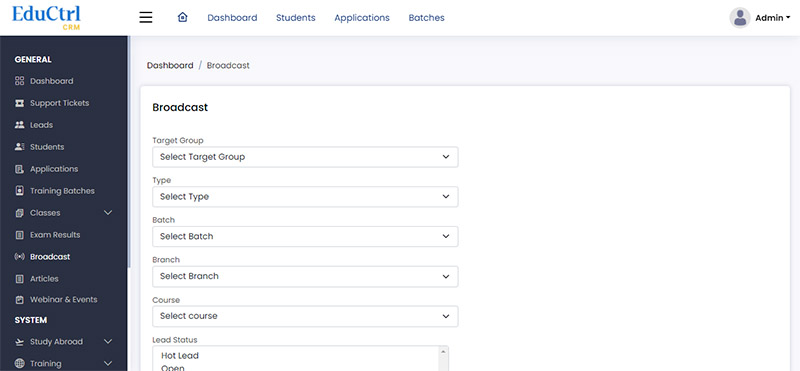 Staff can send broadcast email/sms/whatsapp messages to leads based on lead status. Send broadcast to students, trainers, staff.
Import Leads, Students

Import leads data from csv files to your system. You can also import Students data from csv files.
File Sharing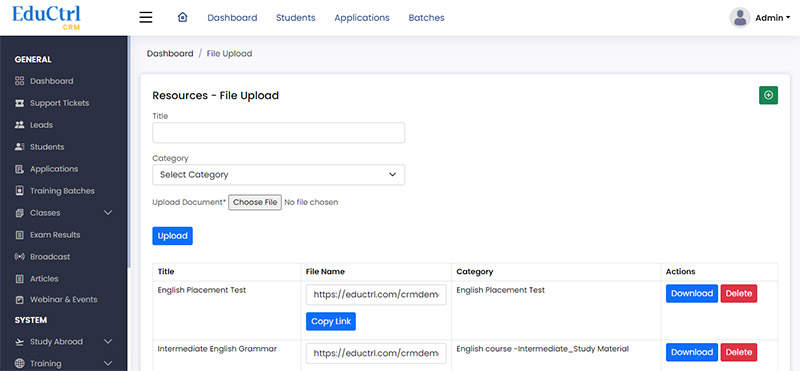 Any useful document/file which the staff want to share with the students can be uploaded into the server & can get a publicly accessible link to that file. This link can be shared with student to access the file.
The documents can also be grouped into categories.
Support Tickets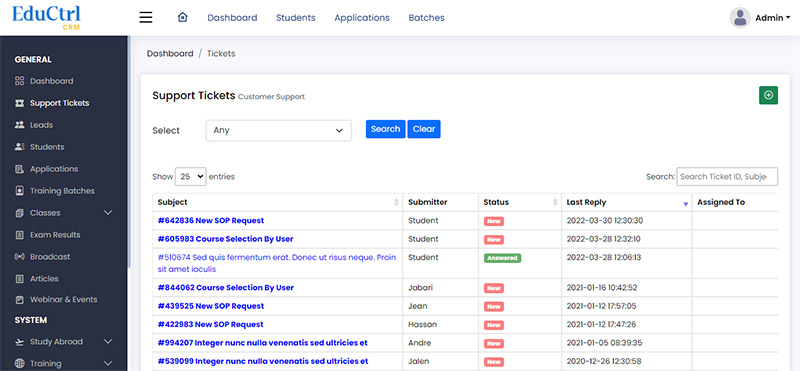 Students can raise support tickets for any assistance related to overseas eduction, courses or website usage. Staff can respond to it & address the issues.
Notification Templates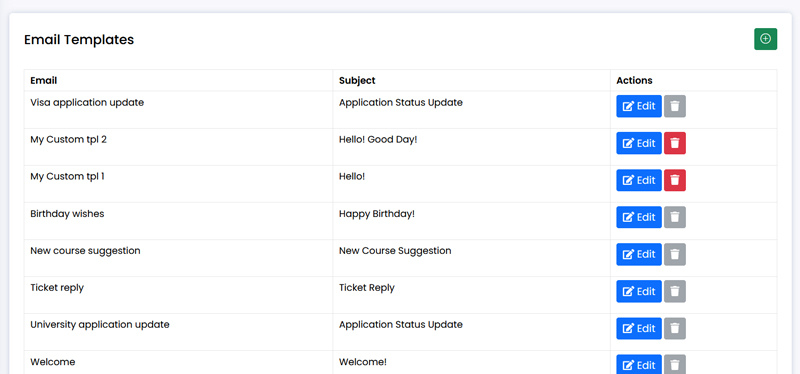 Automated emails/sms/whatsapp are sent from the software for various events. These emails/sms/whatsapp messages can be customized in this page. Custom templates can also be created & used during broadcast.
Webinar & Events

Webinars/events can be managed from this page. This information is displayed in student area. Students can enroll to webinar or event.
Staff Management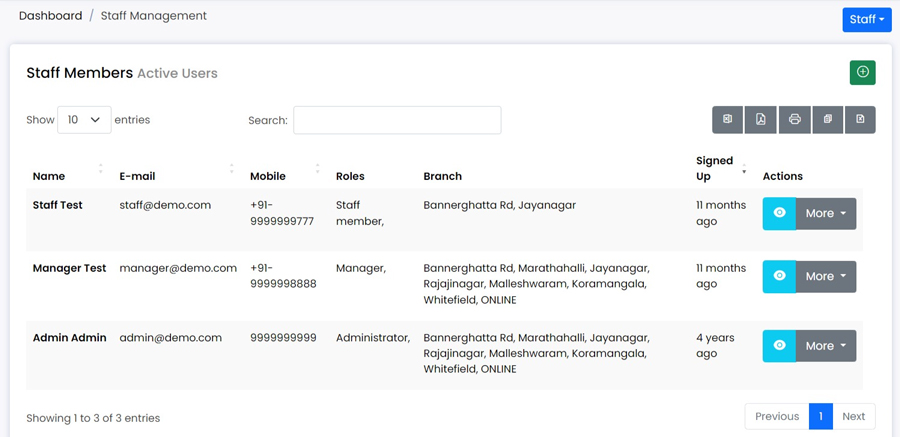 Create/edit/manage your staff members.
Roles Management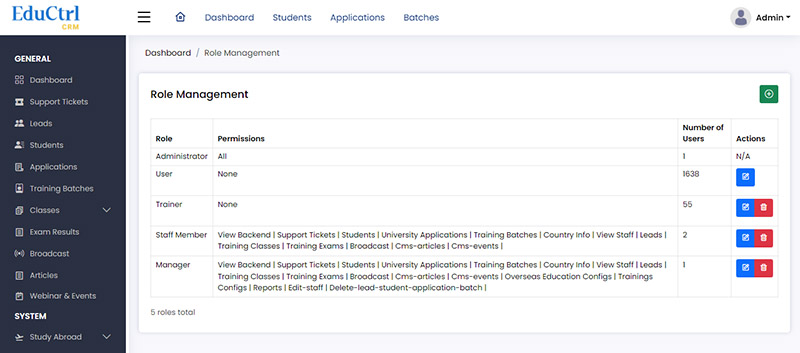 Allows to create/modify roles with required permissions. Staff can be assigned with these roles.
Pages (CMS)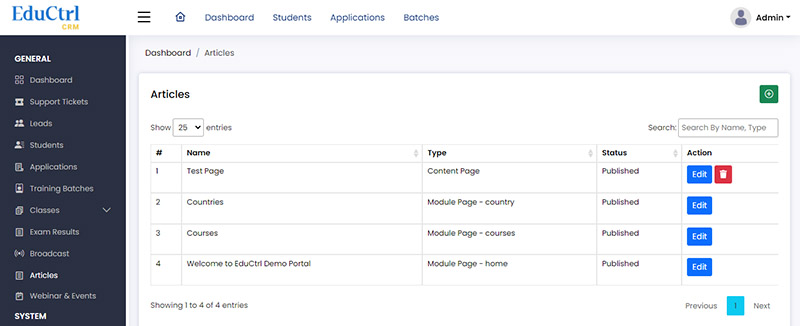 A content management system to create pages for front end display. These pages can be linked to the main menu of the website.
Shop: Products, Orders
Sell digital products or physical products. Shop configuration includes product category maangmement, download management, shipping configurations, Order Management.
Settings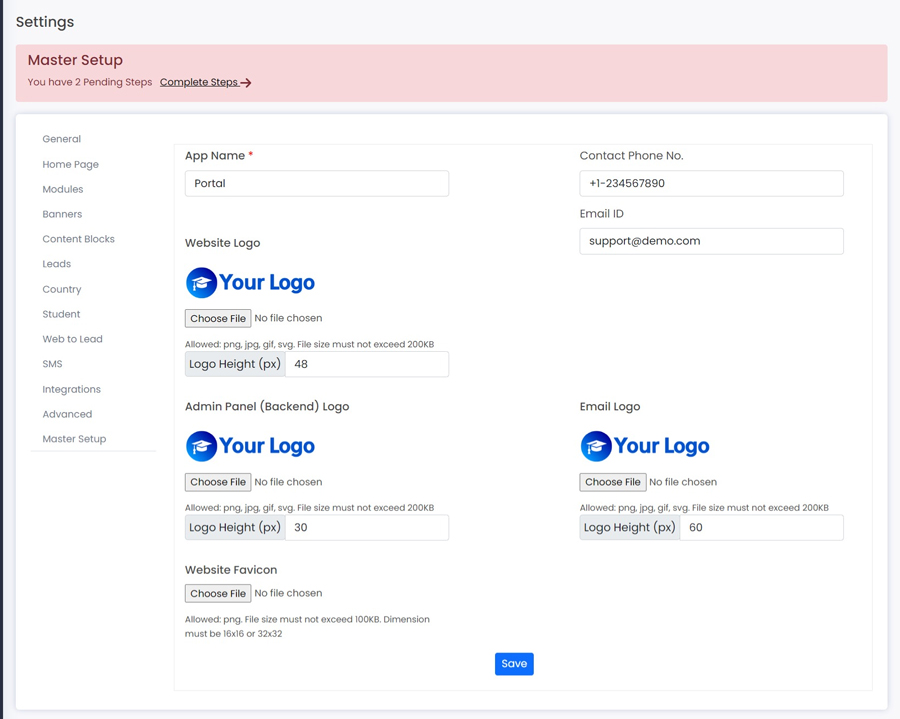 Configure the application features like App name, logos, contact details, invoice details, banners, stats tracking or plugin js codes, Configure home page sectios, Enable/disable modules, Configure lead/counselling status values, web to lead forms.